London, Jan 24, 2012


CountR, market leader for casino ticket and card redemption machines, today presents its new micro ticket redemption machine TITA® for ticket redemption and issuing at table games at the ICE 2012 casino trade show in London.
TITO based techniques are dominating slot machine gaming today. The next step of optimization is made by reducing the action steps for players on table games. With the TITA® device installed at a table game, casinos can validate tickets and display their amount, accept tickets at a table game to be partly exchanged for chips and issue and print tickets in exchange for chips.
The player benefits since they can seamlessly move between slots and table games and do not have to carry chips to the main cage and main there in queues. Using TITA® the casino can strongly reduce the chip handling at the cage and chip refill at the tables.
TITA® is fully integrated into the casino IT infrastructure and can be operated by the dealer immediately after installation thanks to its self explaining MMI.

The following picture shows the operator terminal of the new TITA: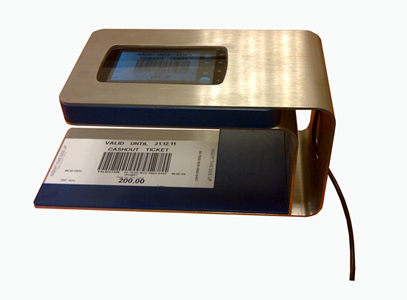 A product flyer containing more information can be found here:
---